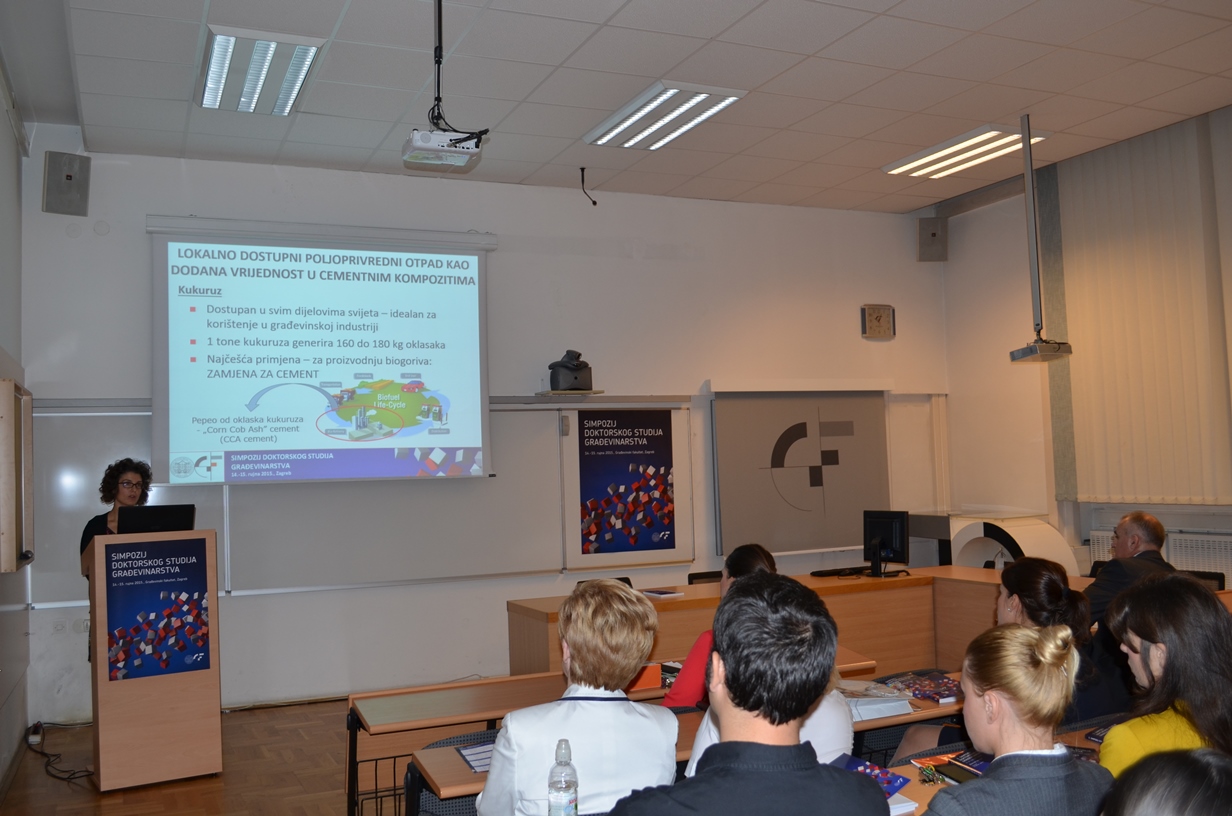 Doctoral students during PhD Symposium traditionally organised at Faculty of Civil Engineering, University of Zagreb
PhD SYMPOSIUM
The PhD symposium of SMSS 2019 creates a professional platform for excellent PhD students to discuss their scientific developments with established experts and to found a network of young scientists of various countries in order to exchange knowledge and promote scientific goals.
This PhD symposium will be organized in a specifically dedicated conference segment whereby the scope of this segment is deliberately wide to enable a comprehensive debate. Contributions from any field of sustainability and construction science and engineering in this segment  are exclusively offered to PhD students whereby the inherent high standards of the scientific contributions were ensured by a review of international experts.
This segment has some special rules:
deadline for short abstracts 

1st JUNE 2018

authors of accepted abstracts will be asked to submit

extended abstract only

(2 page suggested template)
3 minutes presentation maximum during PhD session (A single static PowerPoint slide is recommended)
best presentation award
authors of 10 extended abstracts will be invited to submit full paper for direct publication in  GRADEVINAR (Journal of Croatian Association of Civil Engineers) 

(Web of Science Core Collection – Science Citation Index Expanded)
Workshop
Publishing is an integral part of the research. Researchers (especially doctoral students) must publish research in the appropriate journals to reach the right audience and get visibility. For a publication to have impact in the field, beside high-quality results, it should also be communicated clearly. As a part of RILEM SMSS 2019 conference, workshop "Publishing Scientific Research" will be held by Mrs. Nathalie Jacobs, Executive Editor Engineering and Applied Sciences at the Springer Nature. Workshop is intended for all doctoral students and other interested participants. Please fill Participation form for workshop: "Publishing Scientific Research".
SCIENTIFIC COMMITTEE:
Ueli Angst, ETH Zürich, Switzerland
Andrej Anžlin, ZAG, Slovenia
Mario Bačić, Univesity of Zagreb Faculty of Civil Engineering, Croatia
Dan Bompa, Imperial College London, UK
Christian Christodoulo, AECOM, UK
Isabella G. Colombo, Politecnico di Milano, Italy
Iurie Curosu, TU Dresden, Germany
Gianluca Cusatis, Northwestern University, USA
Ivan Duvnjak, Univesity of Zagreb Faculty of Civil Engineering, Croatia
Gordon Gilja, University of Zagreb Faculty of Civil Engineering, Croatia
Gregor Gluth, BAM, Germany
Ivo Haladin, Univesity of Zagreb Faculty of Civil Engineering, Croatia
Craig Hargis, University of North Florida, USA
Ivan Ignjatović, University of Beograd, Serbia
Ole Mejlhede Jensen, Technische Universität Darmstadt, Denmark
Robert Jockwer, ETH Zürich, Switzerland
Anja Klausen, SINTEF, Norway
Sukmin Kwon, Land and Housing Institute, South Korea
Lovorka Librić, Univesity of Zagreb Faculty of Civil Engineering, Croatia
Lana Lovrenčić Butković, Univesity of Zagreb Faculty of Civil Engineering, Croatia
Ivan Lukačević, Univesity of Zagreb Faculty of Civil Engineering, Croatia
Mladena Luković, Delft University of Technology, Netherlands
Benjy Marks, The University of Sydney, Australia
Hadi Mazaheripour, University of Minho, Portugal
Marta Miletić, Auburn University, USA
Bojan Milovanović, Univesity of Zagreb Faculty of Civil Engineering, Croatia
Behzad Nematollahi, Swinburne University of Technology, Australia
Mijo Nikolić, University of Split, Croatia
Kristina Potočki, Univesity of Zagreb Faculty of Civil Engineering, Croatia
Marijana Serdar, Univesity of Zagreb Faculty of Civil Engineering, Croatia
Wolfram Schmidt, BAM, Germany
Didier Snoeck, Gent University, Belgium
Mislav Stepinac, Univesity of Zagreb Faculty of Civil Engineering, Croatia
Branko Šavija, TNO, Delft, Netherlands
Helena Koncul, Univesity of Zagreb Faculty of Civil Engineering, Croatia
Efi Tzoura, University of Leeds, UK
Mario Uroš, Univesity of Zagreb Faculty of Civil Engineering, Croatia
Nikolina Vezilić Strmo, Univesity of Zagreb Faculty of Civil Engineering, Croatia
Neven Ukrainczyk, Technische Universität Darmstadt, Germany
Natalie Williams Portal, Research Institutes of Sweden, Sweden
Dimitrije M. Zakić, University of Belgrad, Serbia