Phase I (2016):
Laboratory measurements were conducted in a wave flume at the Hydrotechnical Laboratory of the Faculty of Civil Engineering, University of Zagreb. Inside the wave flume with a wave generator, a breakwater physical model with embedded flushing culverts is placed. The wave generator is a "piston" type generator that can produce regular and irregular waves. The dissipation chamber is located at the opposite end of the roughly 18.5 m long and 1 m wide channel in order to minimise the wave reflection of transmitted waves on the back plate of the flume.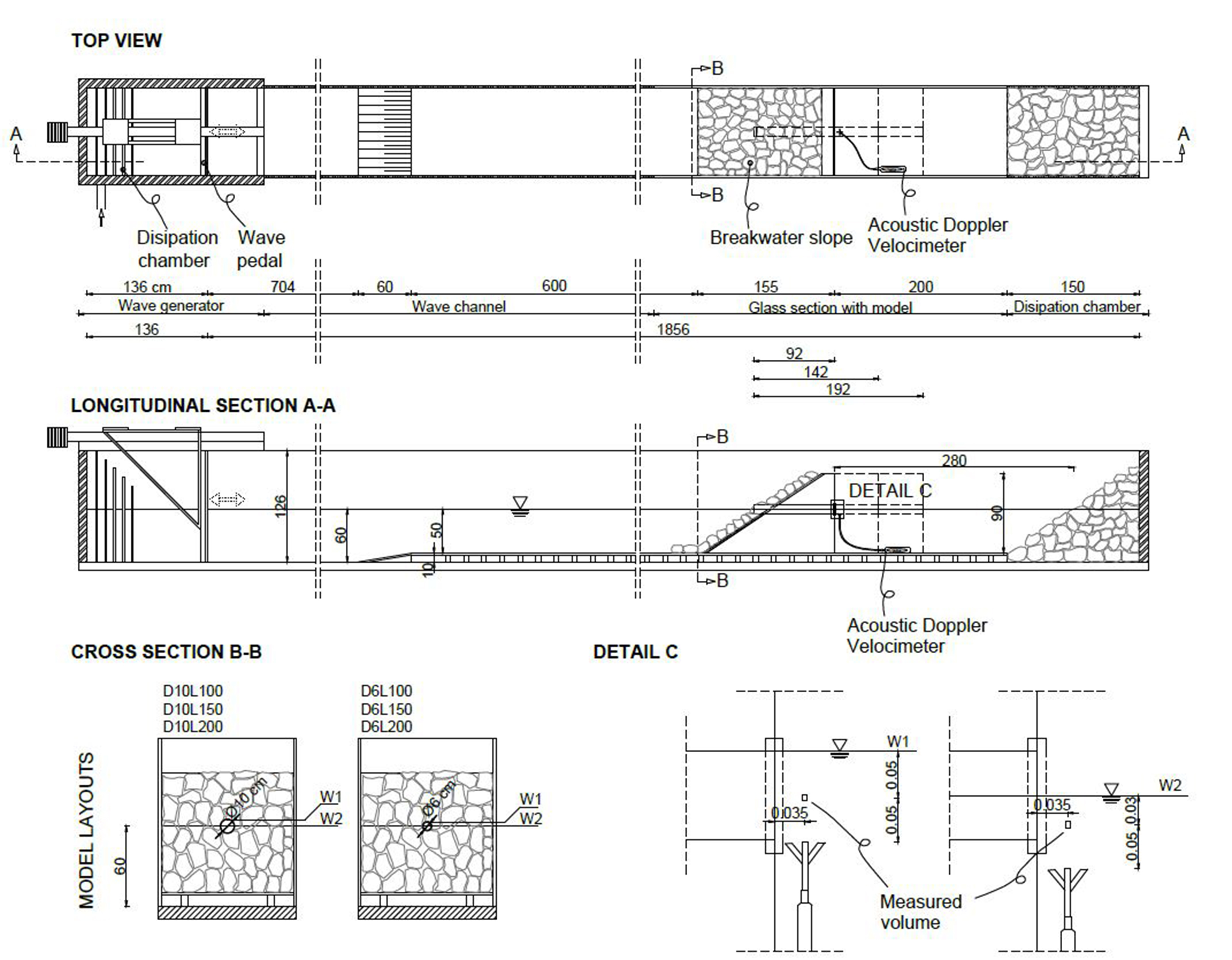 Figure 1. Laboratory experiment design
The breakwater physical model was constructed with a seaward slope of 1:1.5 and covered with boulders with an average diameter of 10 cm. Inside the breakwater, flushing culverts of various lengths and diameters were placed and tested. The culvert diameters correspond to 60 and 100 mm with three different lengths of 92 mm, 142 mm and 192 mm. Each geometrical shape of the culvert was subdued to a set of 27 wave conditions. There were 3 different water levels inside the wave flume and for each water level a set of 9 irregular waves were tested. These water levels were at the top of the culvert (W1), at the axis of the culvert (W2) and at the bottom of the culvert (W3). A total of 162 tests were conducted with spectral waves and breakwaters with one embedded flushing culvert.
Figure 2. Photo gallery of the wave flume and breakwater scale model at the University of Zagreb
Video 1. Laboratory experiments of wave energy transmission through flushing culverts
Additionally, tests with groups of 4, 6 and 8 culverts were also conducted. The four-culvert model was constructed so that all four culverts were in one row while in the six and eight-culvert models, culverts were positioned in two rows.